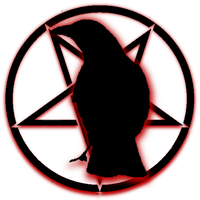 This clan is highly connected with that of birds and crows.  They are able to shape wings and use them for various things.
They have high lifespans, as well as the ability to cast ninjutsu by simply flapping their wings.  They usually have "dark" chakra.
Having migrated from Sunagakure, the Karasu decided to join forces with Kirigakure, strengthening their forces.  Due to them not being native to Kiri's lands, they hold little political power.  Over time however, the Karasu have grown to dislike certain people within the village.
* Due to their wings being connected to their chakra, the colors of the wings are mainly black, dark purple, Indigo, dark grey, or a dark crimson* 
* Tales have been passed down from generation to generation. Then they began to fade and few Karasu remembered their origin. Those who know told the grand stories of Mother Raven and how the Karasu decended from her. It was said that Mother raven was the Ultimate Karasu , in-tuned with their nature and chakra that she became a raven herself and was able to willingly change form. Little else is known except that many Karasu have attempted to search for Mother Raven only to disappear and never return.*